"I wouldn't be in this business if I didn't love it, but this is all I ever wanted to do. I've never gotten up a day in my life dreading to go to work." 
                                                                    -NEAL GAY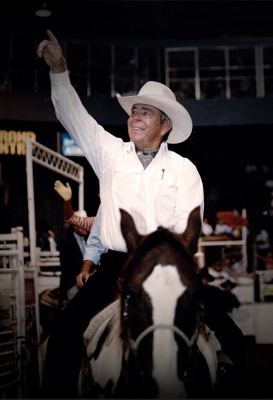 Neal Gay's professional rodeo career began as a contestant in Atoka, Okla., in 1945.  Neal rode bulls, saddle broncs and barebacks and wrestled steers. In May 1958, he put Mesquite, Texas, on the map with the opening of the Mesquite Championship Rodeo in partnership with several other cowboys including Jim Shoulders. He is credited with bringing live weekly television to the world.
In 1979, he was named rodeo manager for the Fort worth stock show and rodeo. A title he has held for 39 years.

2015 Bull Riding Hall of Fame
2010 Texas Trail of Fame

2009 Ben Johnson Award from National Cowboy & Western Heritage Museum
2008 WPRA Lifetime Family Heritage Honorees

2006 Texas Rodeo Cowboy Hall of Fame
2003 Texas Cowboy Hall of Fame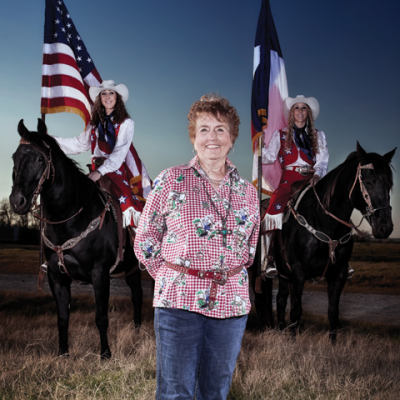 Kay Gay is an important part of Texas rodeo history. From scheduling long-haul truckers for rodeo stock to serving as secretary to keeping time, she has filled most roles within the rodeo arena. For the Mesquite Championship Rodeo, among others,
she coordinated the grand entry and opening ceremonies, carried the American flag and competed as a barrel racer. Her interest in the preservation of Western culture is evident through not only working with the Mesquite Rodeo and others, but also for taking charge of the Pivot Setters and Rodeo costumes at the Fort Worth Stock Show and Rodeo. Her work with the wardrobe often meant designing and even sewing costumes. 

-NATIONAL COWGIRL HALL OF FAME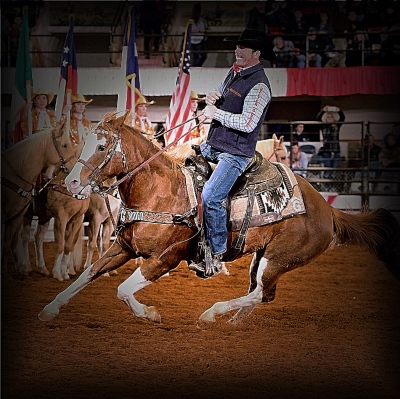 THE YOUNGEST SON OF NEAL AND KAY GAY, JIM GAY, CURRENTLY SERVES AS GENERAL MANAGER OF RAFTER G RODEO. 

HE IS THE DRIVING FORCE BEHIND THE MANAGEMENT AND PRODUCTION OF EVERY RAFTER G ENGAGEMENT. IN HIS EARLY CAREER, JIM RODE BULLS AND COMPETED IN THE STEER WRESTLING WHILE ALSO BECOMING AN ACCOMPLISHED PICK-UP MAN HAVING NUMEROUS SELECTIONS TO THE TEXAS CIRCUIT FINALS. SINCE RETIRING FROM PICKING UP HE HAS SERVED AS THE LIVESTOCK SUPERINTENDENT FOR THE TEXAS CIRCUIT FINALS.
HIS ACHIEVMENTS WERE HONORED WITH A 2007 SELECTION TO THE TEXAS RODEO COWBOY HALL OF FAME.